What is Izoblok?
IZOBLOK is a large format mineralized wood – cement building blocks. Environmentally friendly – natural organic material – at both stage – production and operation. It is used for residential, industrial and commercial buildings. IZOBLOK is a No.1 choice for ecologic build, for healthy enviroment and perfect microclimate at your home.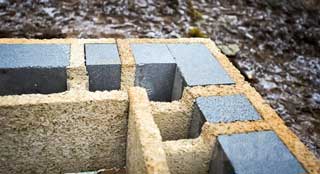 Why Izoblok?
Simple and fast
  Even though Izoblok is a large format building element, it is still lightweight and weighs between 11kg and 18.5kg (24lb to 40lb) depending on the type of block. 1 sq.m of wall needs 4 blocks only and this means that an avarage house can be build in 3 weeks by two people. Unlike other construction elements, working wih Izoblok doesn't require any special knowledge or training, just a few simple rules to follow which we are more than happy to provide upon request. Anyone can do it!
Energy saving
 Izoblok has very high thermal resistance (R=6.54 sq.m k/W) without additional insulation ad is designed in a special way to keep your house warm at winter and chill at summer. Izoblok meets and exceeds a standard UK rate of 'A' energy efficiency. Also having Ph level of 11-12ph ensures your house walls have no mold ever!
Versatile and Effective
 While building of Izoblok, you are not restricted choosing the type of the house, construction shape (width of windows, doors, etc.) or the facade decoration. The complex structures such as lintels or consoles does not require any additional concrete or other metal based elements.
 Because it is enviromental friendly material, it provides us with minimum amount of waste – if the block is cut even into three parts – they will be still used for building or shaping the walls.
 All dwellings built from Izoblok, fully meet and even exceed the noise damping rates applicable in EU. External walls with insulation provides more than 50 dB and internal walls up to 60 dB of sound insulation (both without decorations).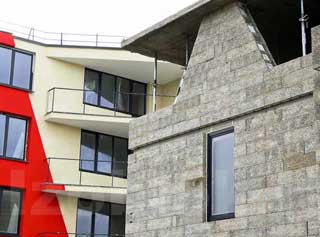 As well as providing a house with great energy performance and sound insulation, Izoblok also matches a fire resistance class of 'B-s1' (spread index of 0) which means that a walls built from it can withstand a direct fire for 4 hours. And that just proves a great durability and longevity of this construction element.